| | |
| --- | --- |
| BS 4504 BLANK FLANGE, BLIIND FLANGE RAISED FACE | |
| PN6, PN10, PN16, PN25, PN40 BLANK FLANGE | |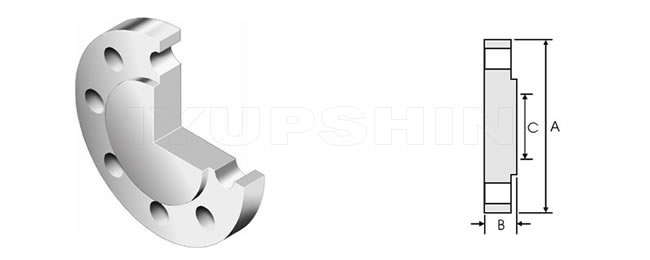 British Standard BS 4504 : Section 3.1 : 1989 - Circular Flanges for Pipes, Valves and Fittings (PN Designated), Specification for Steel Flanges. This covers flanges in nominal pressure ranges PN 2.5 to PN 40 and nominal sizes up to DN 4000 (see table below). BS 4504 substantially agrees with ISO 7005-1 : 1992 (E) Part 1 : Steel Flanges.

BS 4504 : 1969 is still commonly used. This older standard allows for manufacture from bar, whereas the latest standard specifies that forging or plate are to be used, which can be significantly more expensive. There are minor differences in dimensions between the two versions. The following tables are based on the later version.
Flange Dimensions & Approximate Masses / Flange Weight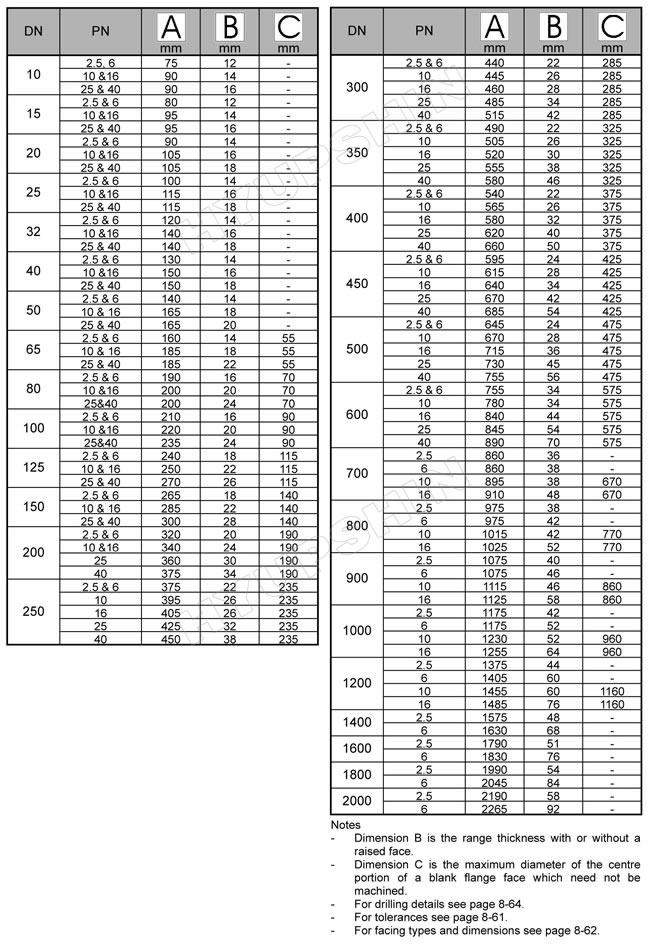 Production Capacity & Purchase Details
1.

Supply Flange Dimension DN15 - DN600 (1/2" - 24") for Blank Flange, Forged Flange.

2.
Flange Material Carbon Steel: ASTM A105, S235JR, C22.8, RST37.2, ST37, P245GH, P250GH, ASTM A181, Q235
3.
Flange Material Stainless Steel: ASTM A182 F304, F304L, F316, F316L, F321 etc.
4.
Flange Anti Rust: Anti Rust Oil, Black Paint, Yellow Paint Coating, Hot Dipped Galvanized, Cold Galvanized etc.
5.
Flange Monthly Output: 3000 tons per Month.
6.
Flange Delivery Terms: CIF, CFR, FOB, EXW, transport by sea, by air, by express DHL, FedEx, TNT, EMS etc.
7.
Flange Payment Terms: Wire Transfer (T/T), Irrevocable L/C at Sight etc.
8.
Flange Minimum Order Quantity (MOQ): 1Ton or 100Pcs per size.
9.
Quality Guarantee: EN10204 3.1 Certificate, Mill Certificate, Third Party Inspection, Free Replacement Service.
10.
Find More Requirements In Flanges Market.
BS 4504 FLANGE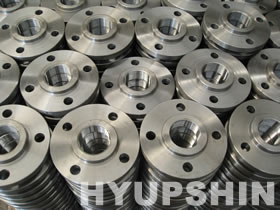 Search
BS 4504 Blank Flange RF, NB15-NB2000
PN6, PN10, PN16, PN25, PN40, Code 105,
T6/8, T10/8, T16/8, T25/8, T40/8
BS 4504 FLANGE

SLIP ON PLATE FLANGE
BS 4504 SLIP ON PLATE FLANGE
WELDING NECK FLANGE
BS 4504 WELDING NECK FLANGE
THREADED FLANGE (BSPT)
BS 4504 THREADED FLANGE
BLIND / BLANK FLANGE
BS 4504 BLANK FLANGE
SLIP ON BOSSED FLANGE
BS 4504 SLIP ON BOSSED FLANGE
BS STANDARDS STEEL
Hot Products

ANSI, ASME, ASA B 16.5 FLANGES
JIS B 2220 FLANGES
KS B 1503 FLANGES
DIN FLANGES
UNI FLANGES
EN 1092-1/01 PN6-PN40 FLANGES
BS 4504 FLANGES
BS 10 T/D, T/E, T/F FLANGES
GOST 12820-80 FLANGES
GOST 12821-80 FLANGES
SABS / SANS 1123 FLANGES
AS 2129 FLANGES, AS 4087 FLANGES
ISO 9624 FLANGES, ISO7005-1 FLANGES
NFE 29203 FLANGES, NS FLANGES
KS B 1522/1541/1543 ELBOWS
BS4504 PN16 SLIP ON FLANGE RF
ANSI B16.5 150# SLIP ON FLANGE RF
ANSI B16.5 CLASS 150 WNRF FLANGE
DIN2632, 2633, 2634 2635 WNRF
EN1092-1/11 PN6-PN40 FLANGE
SABS / SANS 1123 1000/3 FLANGES